In November 2021, a public consultation was undertaken on proposals for 636 homes at the Hersham Golf Club site, including 50% affordable homes, a community hub and a new country park. An illustrative Masterplan of the previously proposed scheme is shown below:
Since then, we have taken on board feedback received from Elmbridge Borough Council officers and the local community and have amended the scheme accordingly.
Our key focus is to promote sustainable development in a highly accessible location, providing high-quality, energy efficient housing alongside new community uses and open spaces that truly deliver on the needs of the community.
Next to the development site will be 21 hectares of new, beautiful, publicly accessible open space which will benefit the wider community, and a 10-hectare biodiversity habitat area.
The development will only utilise Previously Developed Land within the Green Belt (PDL), ensuring that 93% of the Green Belt between Esher and Hersham will remain unaffected.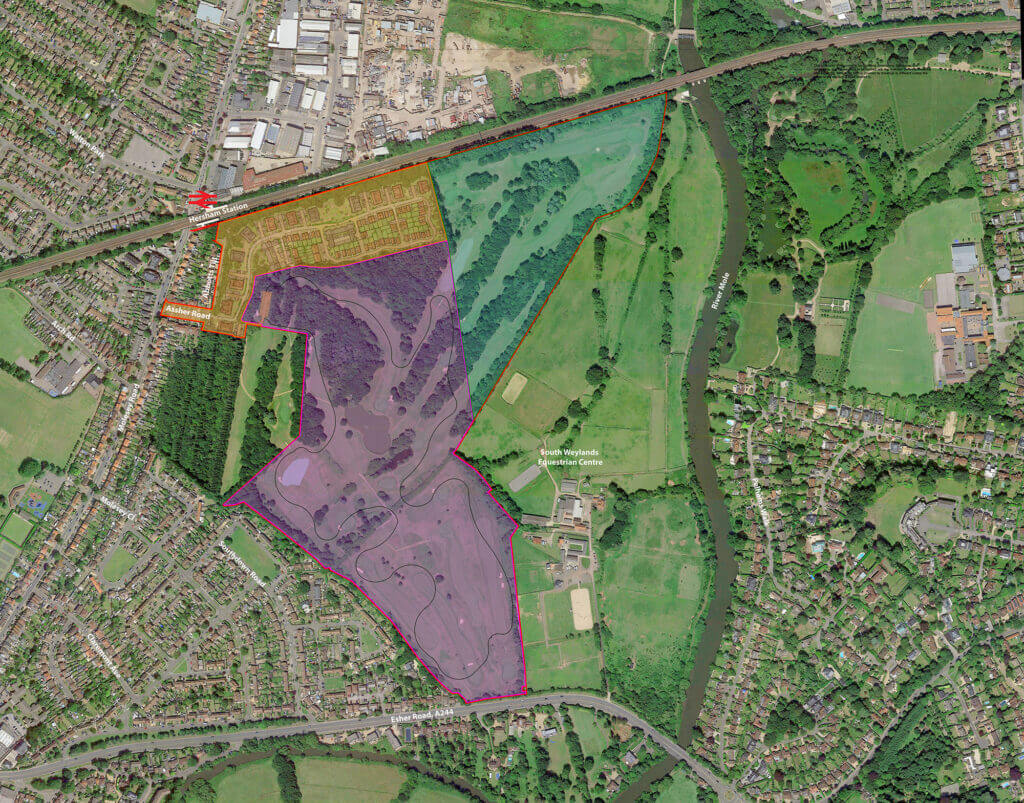 The orange area indicates the development area on the Previously Developed Land.
The blue area indicates the Biodiversity Net Gain area.
The purple area indicates the area for the SANG public parkland.
Of the 50% affordable homes, 10% (11 homes) will be promoted as First Homes (a Government scheme to aid First Time Buyers to get on the property ladder), 10% (11 homes) will be homes for social rent, 20% will be available under a shared-ownership scheme, and the remaining 60% will be made available for rent via a Registered Affordable Housing Provider. These homes have specific eligibility criteria to ensure they are made available to local people in genuine need.
Past community consultation has raised the issue of a lack of medical and GP availability in the area. For this reason, the team has sought to provide a medical centre which has the capacity to provide a multi-practitioner GP surgery.
As a result of feedback received during public consultation in November 2021, the following key changes have been made to the scheme:
A reduction in development from 636 homes to 221.
Changes in the design to complement the neighbouring houses and existing urban areas.
An increased proportion of family houses.
A reduction in the overall density, with the majority of buildings being three storeys or less.
A commitment to providing space for a medical centre/Doctors' surgery and community cafe.
Confirmation of the pedestrian link to Hersham station.
Improved pedestrian connections to green spaces and existing public footpaths to the River Mole.
Changes to the proposed layout to preserve more trees, whilst providing a site of 10 hectares to promote local biodiversity
The development now retains 93% of the Green Belt, as the development is restricted to the previously developed part of the site.
To summarise the key differences between the two schemes, a comparative table is provided below:
| | | | |
| --- | --- | --- | --- |
| Key components | Nov-21 | Now | Existing |
| Development area | 12.2 Hectares | 5.5 Hectares | 5.5 Hectares of previously developed land |
| Total number of units | 636 | 221 | |
| Apartments % / Number of units | 78% / 494 | 74% / 164 | |
| Houses % / Number of units | 22% / 142 | 26% / 57 | |
| Affordable homes content | 50% | 50% (mix of tenures changed, as follows) | |
| First Homes | Not proposed | 10% | |
| Social rent homes | Not proposed | 10% | |
| Affordable rent homes | Not defined | 60% | |
| Shared ownership | Not defined | 20% | |
| Density of development | 52 Dwellings per Ha | 41 Dwellings per Ha | |
| Daily vehicle movements | 2,564 (2-way movements) over two accesses | 900 (2-way movements) over single access | Existing weekday/weekend 300 / 450 (2- way movements) |
| Medical Centre/GP Surgery | Not proposed | Yes | |
| Community café | Yes | Yes (location changed) | |
| Public access | 31ha | 21ha | To public right of way only |
| SANG | 31ha | 21ha | None |
| Bio-diversity site | Not proposed | 10ha | None |
| New footpath to Station | Option | Confirmed | None |
Proposals for Hersham Golf Club will deliver a number of key benefits, including but not limited to:

High quality, energy efficient new homes
221 homes comprising of houses and flats to a mix of tenures..

50% affordable housing, with a mix of social and affordable rent, First Homes – a first time buyer scheme, and intermediate housing.
Space for a new 600m2 Doctor's surgery to meet local needs.
The creation of a new community café.
A minimum of 21 hectares of open space in the form of SANG for the public to enjoy in addition to the LEAP (Locally Equipped Area for Play) and LAPs (Local Areas for Play) provided within the development area.  

10 hectares of land for Biodiversity Net Gain.

An environmentally friendly development
Renewable energy sources and electric vehicle charging points available to every home, bat and bird boxes, protection and enhancement of existing plants and trees.